If you run a commercial business such as a restaurant, hotel or Laundromat, then you know that your business has its own set of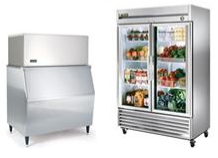 unique needs to make sure that it runs efficiently each and every day. This is why it is important that you find a commercial appliance service provider that has the expertise and that is familiar with your particular industry. I am sure you will agree with me that your commercial appliances are what business owners would consider to be the lifeline of your company and in order for you and your staff to meet the day to day demands of your customers, then these commercial equipments need to operate efficiently so that you can remain profitable. We are the experts in commercial appliance repair services so we can help to keep your company on track.
Call 
(786) 292-0882

Today For Commercial Refrigeration Repair and other Refrigerator repair services such as:
Commercial refrigerator repair
Replacement of Refrigeration Gaskets
Commercial Freezer repair
Ice Makers
Commercial dishwasher repair
Commercial dryer repair
Restaurant hood repair
Food service equipment service
Pizza oven repair
Bakery equipment service
Wolf commercial range repair
Coin operated washer repair
Coin operated dryer repair
Laundromat machine repair
Commercial washer and dryer repair
Commercial stove repair
Commercial washer repair
Commercial mixer repair
Fryer repair
Air conditioning repair
Commercial Freezer Repair call (786) 292-0882
Commercial kitchen equipment is very different when compared to residential appliances, as they experience more wear and tear; they are more powerful, more expensive and are larger than the typical home appliance, because they need to adhere to specific safety requirements and functionality that businesses need. For example, commercial fridges have to meet certain health code requirements and they also have to be made of industrial grade parts because they will be heavily used on a daily basis. Restaurant appliances must be cleaned easily, resist the growth of bacteria and use a refrigeration system that has enough power to maintain temperatures at the desired thermostat settings. Due to these commercial equipment, safety and construction requirements, you need to get top quality repair and maintenance services for your food service equipment.
Need restaurant equipment repair call (786) 292-0882 Today!
We specialize in doing appliance repair for businesses including:
Restaurants
Churches
Universities and schools
Hospitals
Offices
Retail businesses
Hotels
Laundromats
We have experience fixing and servicing these equipment brands:
York
Philco
Payne
GE
Janitrol
Intertherm
Gibson
American standard
Roper
Bard
Florida heat pump
Ruud
Sears
Bryant
Subzero
Tempstar
Climate Master
Lennox
Tappan
Carrier
Coleman
Coldflow
Estate
Kelvinator
Trane
Luxaire
Amana
Fujitsu
Mitsubishi Electric
Goodman
Weather King
RCA
Heil
Rheem
And more
Why you need professional repair and installation?
Technicians that are expertly trained have the necessary skills and know-how to handle all our catering appliance repair needs.
Professional installation and maintenance is what you need so that you can remain compliant with the local government safety standards so that your bakery equipment will be up to code so that you can avoid expensive liability, fines and replacements
You can lose the factory warranty on your appliances if you don't do regular maintenance, use untrained technicians, faulty repairs and cheap parts.
You can save both time and money by using a professional commercial appliance repairman.
The importance of maintenance contracts
We offer the best commercial repair services in Miami and we do this by offering our clients routine maintenance and professional inspections that are done on a regular basis for their commercial appliances. We also educate business owners and managers on how to do daily maintenance to help prevent their commercial equipment from breaking down. You need to plan preventive maintenance if you intend to be compliant with your factory warranties, reduce breakdowns and to keep your appliances running efficiently. Our trained technicians understand how using your appliances on a day to day basis can cause wear and tear, as well as we understand the nature of your business.
Also, if you are having a hard time trying to find parts for your commercial appliance, we can help you to identify exactly what parts you need so that we can help you to reduce the amount of time that your appliance is not working
Contact us today to schedule an appointment for repairs or preventative maintenance at (786) 292-0882
Click here for residential appliance repair, appliance repair in West Palm Beach, Atlanta Appliance Repair, Charlotte Appliance Repair, Charleston Appliance Repair, New Haven Appliance Repair, Middletown Appliance Repair, Fort Lauderdale Appliance Repair, Tucson Appliance Repair, Austin Appliance Repair, Houston Appliance Repair
Providing high quality prompt service in Miami and these communities:
Aventura, Coconut Grove, Coral Gables, Cutler Bay, Doral,  Hialeah, Homestead, Kendall,  Key Biscayne,  Miami Beach,  Miami Gardens, Miami Lakes,  Miami Shores, Miami Springs,  North Bay Village, Opa Locka, Palmetto Bay, Pinecrest, Sunny Isles Beach, Sweetwater.
ABE Mechanical

990 Biscayne Blvd
Miami, FL 33132
(786) 292-0882